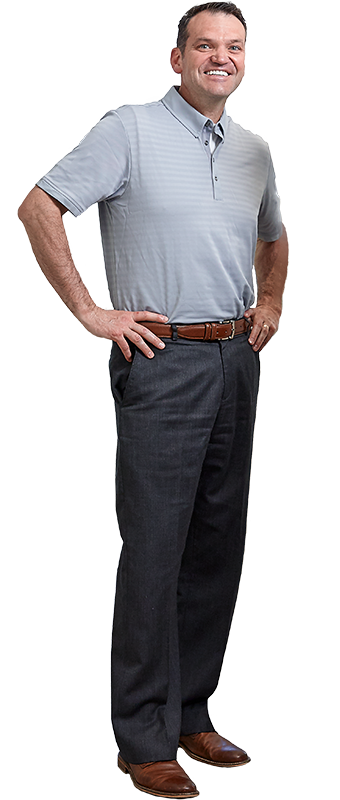 Dr. Chad Ellis
Dr. Ellis completed undergraduate and graduate degrees at Utah State University in architecture and engineering, then joined the Air Force as an active duty officer and served as an environmental health engineer in California and Texas. While this may not be the typical path to dental school, the combination of art and structural science turned out to be a fantastic background for creating beautiful smiles.
Dr. Ellis attended dental school at the University of Texas Health Science Center at San Antonio. After receiving his DDS degree, he completed a one-year residency in the Idaho Advanced General Dentistry Program at Idaho State University. His goal as a dentist is to provide patients with affordable, high-quality care and an overall pleasant experience, which is why he attends two to three times the number of required CE courses. Dr. Ellis is a member of the following organizations:
American Academy of Cosmetic Dentistry
Crown Council
American Dental Association
Academy of General Dentists
Utah Dental Association
Idaho State Dental Association
Chicago Dental Society
Academy of LDS Dentists.
As a young man, Dr. Ellis served an LDS mission in Micronesia in the Truk Lagoon. He has continued to give volunteer service as a dentist, participating in humanitarian dental projects in Peru, Mexico, the Dominican Republic, and Micronesia. He is also an annual volunteer of the Smiles for Life Foundation, which has raised more than 38 million dollars for children since 1998.
In addition to humanitarian projects that give back, Dr. Ellis has also developed a passion for health. He views oral health as an important piece of overall health. This passion has lead him to complete two full Ironman triathlons and over 20 marathons (including five Boston Marathons!) to date. But his kids will tell you that makes him sound way cooler than he really is.
Chad and his wife, Lynette, have six children: Austin, Clayton, Hannah, Matthew, Kendall, and Adam. They reside in Pleasant Grove. Most of his free time is spent with his family while participating in all sports, landscaping, scouting, scuba diving, and traveling.

Meet Our Team
Dr. Chad Ellis is honored to work with an upbeat, patient-oriented team who goes above and beyond every day to make patients feel welcome at The Smile Studio - Dr. Chad Ellis. We invite you to meet the friendly individuals who work with him to provide quality dental care in Orem and Provo, Utah. We look forward to meeting you, too!
Kaelyn – Treatment Coordinator
Kaelyn is one of our treatment coordinators at The Smile Studio - Dr. Chad Ellis. She uses her positive attitude, solution-driven mindset, and degree in business management to provide the highest quality care for patients. Kaelyn grew up in a big, beautiful family, and her hobbies include anything sunshine and outdoors—running, writing, gardening, hiking, playing sports, and so on.
Kellie – Treatment Coordinator
Kellie has been a dental assistant for over six years. She received her education in dental assisting from MATC, and is trained and ready to help in both the administrative and clinical parts of the office. Her favorite aspects of working at The Smile Studio - Dr. Chad Ellis are the wonderful team and atmosphere. She enjoys helping patients and loves being a dental assistant. Kellie married her best friend Moe (a BYU football player) in February of 2015.
Hollie – Treatment Coordinator
Hollie has been one of our dental assistants for over 8 years. She is trained in all areas of the office, and loves working with our team and with our patients. She says, "The Smile Studio - Dr. Chad Ellis is the best!" Hollie has been married for over 25 years, and she and her husband have five children and are expecting their first grandchild soon. Her free time is spent running (over 40 marathons), hiking, biking, and spending time in the mountains.
Lindsey – Dental Hygienist
Lindsey has been a hygienist since 2007. She is invaluable to The Smile Studio hygiene team. She received her Registered Dental Hygienist (RDH) degree from Weber State University, where in 2007 she was selected as the RDH Student of the Year. She is also an active member of Sigma Phi Alpha – Dental Hygiene Honor Society. Lindsey's friendly demeanor, obvious passion for dentistry, and commitment to her patients are a few of the reasons our patients love her! Her vast knowledge of dentistry is only amplified by her 5 years of dental experience prior to becoming a hygienist. Lindsey is originally from Wasatch County and still lives there with her husband, three adorable children, and two dogs.
Brooke – Treatment Coordinator
Brooke is one of our treatment coordinators at The Smile Studio - Dr. Chad Ellis. She is currently attending Brigham Young University. Her favorite part of The Smile Studio - Dr. Chad Ellis is building relationships with patients. The Smile Studio - Dr. Chad Ellis and the team's commitment to putting patients first inspires her to perform better each day and provide the best experience for patients from the moment they walk in until they leave. Brooke loves to dance, bake, color, decorate, shop, run, travel, and spend time with family—especially her husband, Austin.
Casey – Dental Hygienist
Casey has been a dental hygienist for over three years. She received her Associate of Science degree from Snow College in 2009, and then her Associate of Applied Science in dental hygiene from Dixie State University in 2013. Being a dental hygienist allows her to truly help others and meet new people. She loves the fast-paced feel of the office and has participated in dental humanitarian trips to Mexico and Africa. Casey married her college sweetheart in the Manti LDS temple. She enjoys being outdoors, spending time with family, traveling, watching sports, shopping, and attending concerts.
Laraine – Dental Hygienist
Laraine has been a dental hygienist for over six years. She graduated from UCDH with a Bachelor of Science in dental hygiene. Laraine loves getting to know patients and working with fun, talented professionals, and she strives to create dental appointments that our patients anticipate instead of dread. Laraine has been married for 20 years, and has four kids, including three busy teenagers. She loves travel, making crafts, interior designing, and watching her kids play soccer.
Lynette – Creative Director
Lynette is Dr. Chad Ellis's wife, as well as our creative director. She has been part of our team since July of 2004, and helped Dr. Chad Ellis build our dental home from the ground up. Lynette received her bachelor's degree in special education from Utah State University. She uses her creative energy to promote The Smile Studio - Dr. Chad Ellis from behind the scenes, especially the social media and print aspects, and is always ready to help where she is needed. She loves participating in our office's humanitarian work in Mexico, the Dominican Republic, and the Chuuk Islands. Lynette also loves travelling, reading, scuba diving, calligraphy, inventing, and spending time with her husband and their six children.