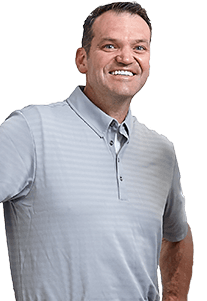 Dr. Ellis completed undergraduate and graduate degrees at Utah State University in architecture and engineering, then joined the Air Force as an active duty officer and served as an environmental health engineer in California and Texas. While this may not be the typical path to dental school, the combination of art and structural science turned out to be a fantastic background for creating beautiful smiles.
Dr. Ellis attended dental school at the University of Texas Health Science Center at San Antonio. After receiving his Doctor of Dental Surgery (DDS) degree, he completed a one-year residency in the Idaho Advanced General Dentistry Program at Idaho State University. His goal as a dentist is to provide patients with affordable, high-quality care and an overall pleasant experience, which is why he attends two to three times the number of required continuing education courses. Dr. Ellis is a member of the following organizations:
American Academy of Cosmetic Dentistry
American Dental Association®
Academy of General Dentists
Academy of LDS Dentists
Chicago Dental Society
Crown Council
Idaho State Dental Association
Utah Dental Association
As a young man, Dr. Ellis served an LDS mission in Micronesia in the Truk Lagoon. He has continued to give volunteer service as a dentist, participating in humanitarian dental projects in Peru, Mexico, the Dominican Republic and Micronesia. He is also an annual volunteer of the Smiles for Life Foundation, which has raised more than 38 million dollars for children since 1998.
In addition to humanitarian projects that give back, Dr. Ellis has also developed a passion for health. He views oral health as an important piece of overall health. This passion has led him to complete two full Ironman triathlons and over 20 marathons (including five Boston Marathons!) to date. But his kids will tell you that makes him sound way cooler than he really is.
Chad and his wife, Lynette, have six children: Austin, Clayton, Hannah, Matthew, Kendall and Adam. They reside in Pleasant Grove. Most of his free time is spent with his family while participating in all sports, landscaping, scouting, scuba diving and traveling.
Meet Our Team
Welcome to our practice! Our friendly, warm and professional team are excited to meet you. At The Smile Studio, we are proud to work with the very best dentistry in Orem, Utah, has to offer. Call our office today at 801-225-5594 to schedule an appointment with our dentist, Dr. Chad Ellis, and learn more about dental care in Orem, Utah.